http://www.ikea.com/us/en/catalog/categories/departments/living_room/10475/
Up until now, I've always thought I watch too much television. While preparing for this post, I tried to come up with a list of season premieres I'm looking forward to, yet the final count was two. Now I follow a number of shows, more than I care to admit, but this season isn't looking to busy in the TV department. I'm thinking it's time to find a new TV series, no? Probably The Mindy Project, because as I once mentioned
Mindy Kaling
is amazin
g

and we'd become instant besties

. Fo
r now, I will spend the weekend watching reruns of HIMYM and Revenge to prepare for this week's season premieres!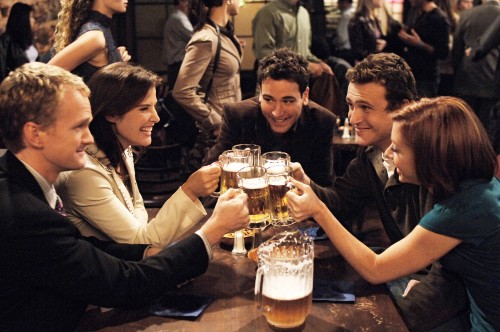 http://tvbreakroom.com/tag/how-i-met-your-mother/
My
first post
was titled after one of Barney's catchphrases, "Challenge Accepted". Silly I know, but three months later and I'm still writing, and you're reading! I've been obsessed with this show for the past couple years and it's about time we met the mother. I tend to get emotionally attached to the characters from my favorite show, so it's going to be bittersweet watching the final season. After 8 seasons, the dreamer in me says "I just want Ted to marry the mother and live happily ever after", but it wouldn't be complete without a series of obstacles and adventures. If you haven't seen it, you should probably head on over to Netflix and start now!
http://blog.zap2it.com/frominsidethebox/revenge-cast-season-two-gallery-325-abc.jpg
Another fall favorite is Revenge! When I try and describe this show to friends, I explain it as Pretty Little Liars meets Gossip Girl. If you haven't seen either series or it just sounds confusing, I'll try to give a short summary. It's all about a smart and strong beauty named Emily Thorne, whose father was framed, sent to jail and killed all before a young age. Now she's all grown up and moves back home to the Hamptons with a new identity, extreme fight training and a plan to take down the family who ruined her life. Emily's character is such a bad a## and while I don't usually curse, it's the plain truth. Aside from all the secrets and revenge plots, there's plenty of romance as well. The end of last season revealed a bunch of new secrets, so you can bet I'll be analyzing all the reruns this weekend! As mentioned before, if you haven't seen it, make sure to visit Netflix or your online TV source to catch up on the best shows ever!
I could go on and on about my favorite TV shows, but then this post would take forever to read. I hope you check out both or one of these series premieres, because they're going to be legend, wait for it, dary(I think I may have just won an award for blogger's corniest line right there).
What are some of your favorite fall TV shows? Any HIMYM or Revenge fans out there? Which premieres are you most excited for? Happy Friday y'all and enjoy the weekend!